Do you want to know the best way to travel in Spain? Like the rail network throughout much of Europe, travel in Spain by train is easy, cost-effective and efficient. As a self-confessed train geek and avid city explorer, travelling around the country perfectly combined these two passions where I was able to traverse four cities in four days in a whirlwind tour of Tarragona, Zaragoza, Madrid and Seville via Spain's high-speed Renfe AVE train service.
Spain Train Travel – Why Use the AVE Train?
While Spain's transport infrastructure overall is well established, did you know Spain is the second country in the world with the most amount of high-speed tracks after China? And while Japan holds the title for the fastest high-speed rail, Spain still comes in 5th.
A relatively small country, that means you can see a lot more of Spain easily, cheaply and quickly in comparison to long bus journeys or multiple fight routes. Spain train travel is all via Renfe – Spain's nationalised railway network, which operates the regular city-to-city, and inner-city regional train services, as well as the high-speed AVE train (Alta Velocidad Española which means 'Spanish High Speed'), reaching speeds of up to 350 km per hour!
Having spent a month travelling around Japan on a similar adventure, the AVE train in Spain brought back memories of the bullet trains – the ease and comfort, the unforgettable whoosh as the trains passed the station and the excitement of arriving in a new city in a matter of a few short hours.
Spain AVE Guide – What Route Will You Choose?
With over 2,000 stations and 2,270 kilometres of railways, train travel in Spain means being presented with a lot of choices where you can mix countryside with cities and coastlines. When it comes to the AVE high-speed options, there's plenty of information out there to get you started with planning your route.
With Madrid and Barcelona being connected by a short two and a half hour journey, these two cities form the major hubs from which to use the AVE Spain as the start or end points. While they often steal the limelight, there's plenty of other cities being home to airports with great connections, you can literally take your pick from any corner of Spain.
Aside from my Tarragona-Zaragoza-Madrid-Seville itinerary (which would make for a great seven-day trip), below are some of the most popular routes to get you started, as shown on the website where you can check the schedules. The most searched for Renfe AVE tickets is the AVE Barcelona-Madrid, alongside the Madrid to Valencia train and Madrid-Seville route.
The AVE Experience website also has a helpful shortlist of useful guides about Spain's AVE Cities, from the more well-known places like Alicante, Córdoba and Valencia, underrated cities like Malaga and the lesser-explored Valladolid, Lleida and Puertollano. The Renfe AVE network is extensive, with various stops to choose from even between two major cities.
City One: Tarragona
Flying into Reus airport, it was a short 20-minute drive to the centre of Tarragona. A northeastern coastal city full of ancient Roman ruins from its days of a colony known as Tarraco, Tarragona is a great historical hotspot from which to start an overland adventure.
A new city built on top of an ancient city; the beauty here is in exploring its many layers and losing yourself in its golden structures.
The highlights can be seen in a day, as Tarragona is a compact city. Not only can you wander the amphitheatre (one of the seven in the country preserved and open to the public), but also a cathedral now stands on the site of the former Roman temple, where we climbed the spiral staircases for a panoramic view of the city as it stands today.
Then there's the Roman Circus, which was once used to hold the grand horse and chariot races. Parts of the spectator archways still remain, while the Tarragona of today was built on top of what was once the racing circuit.
READ MORE: Tarragona – The First Roman City of Spain
City Two: Zaragoza
Tarragona to Zaragoza is a mere 1 hour and 30 minutes journey on the train, landing you right in the capital of the Aragon region in northeastern Spain, nestled between Madrid and Barcelona.
One of its defining features is the stunning Cathedral-Basilica of Our Lady of the Pillar – a Roman Catholic Church right in the heart of the Plaza del Pilar (the largest of all in Spain), providing the best views over the multi-domed dreamscape.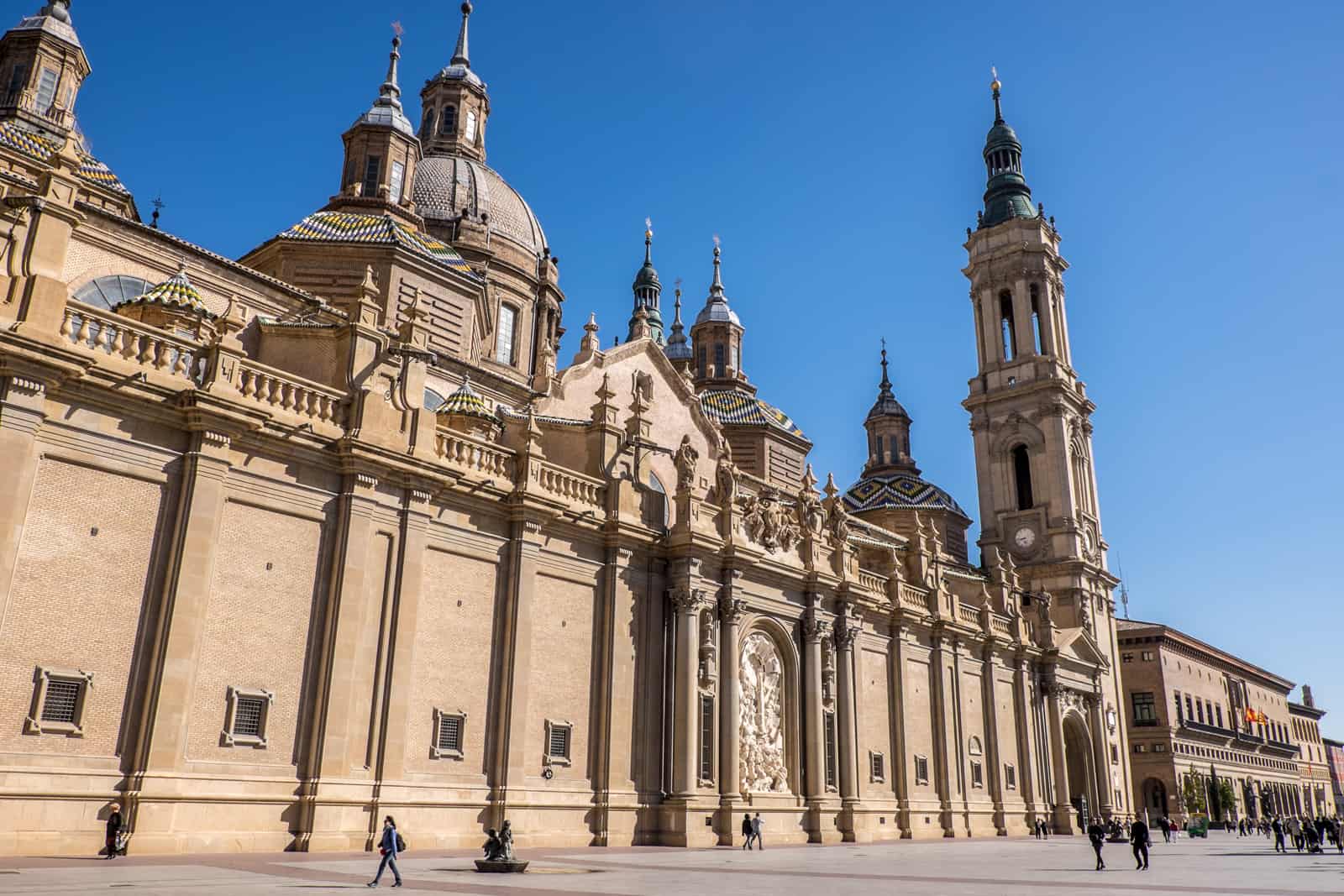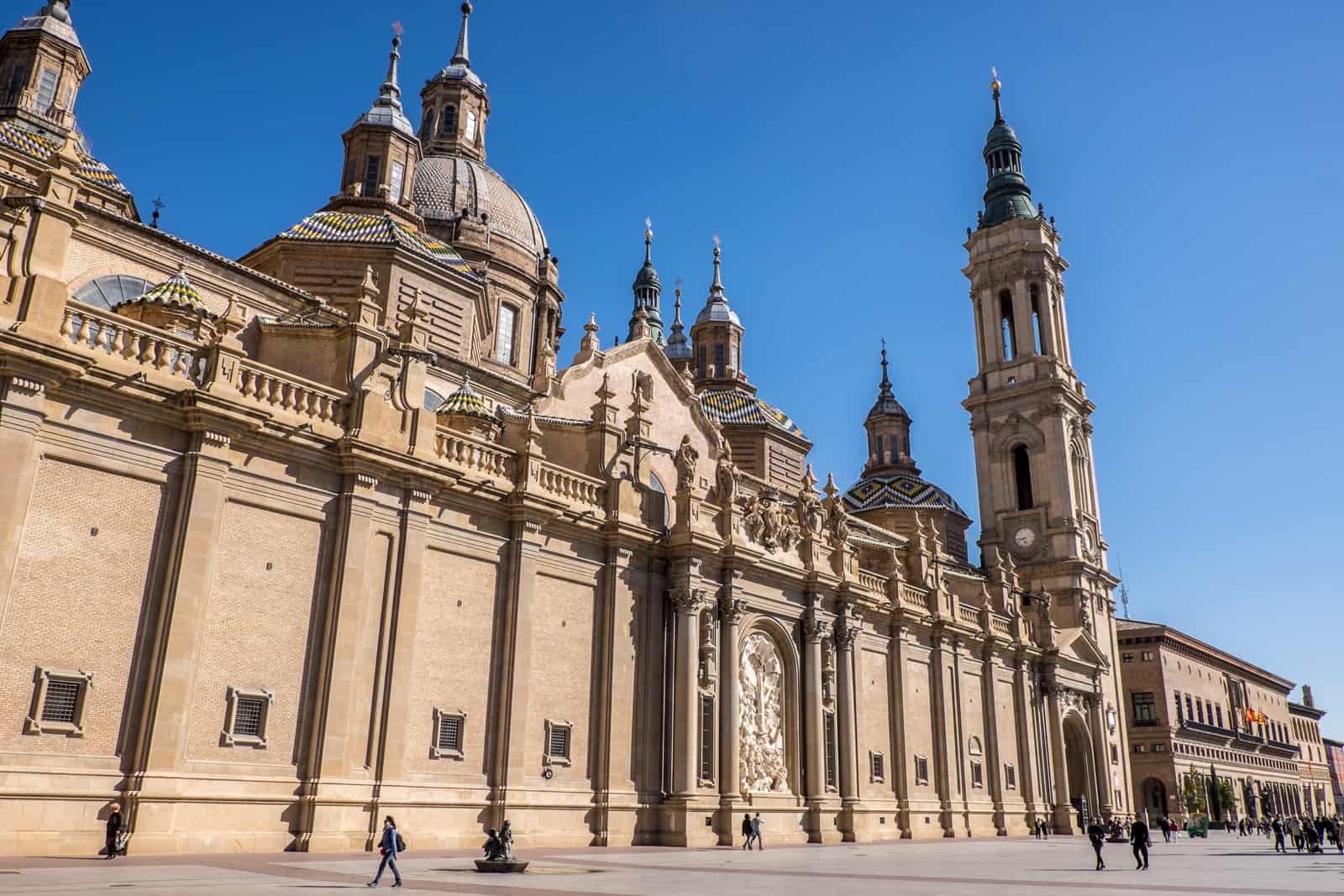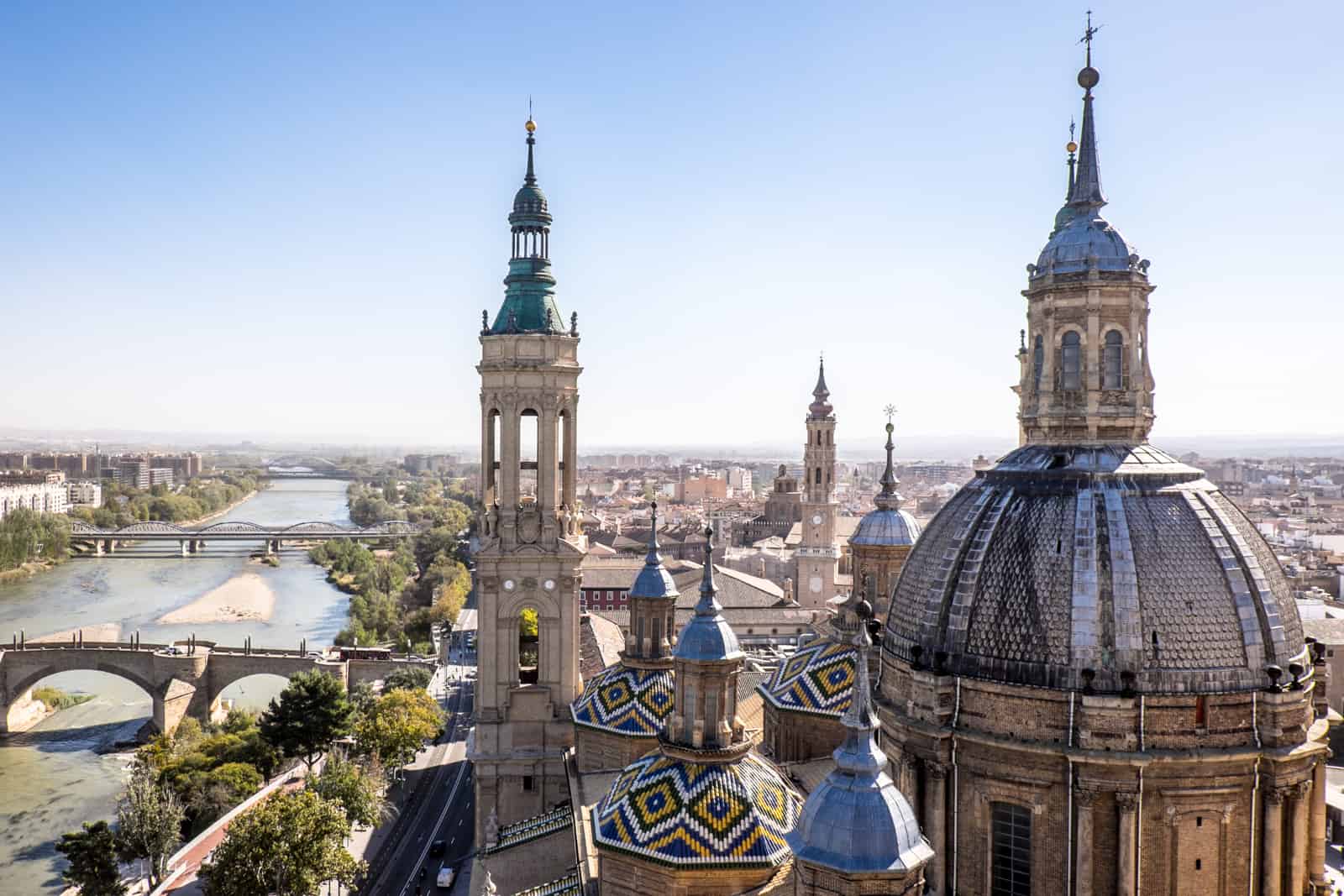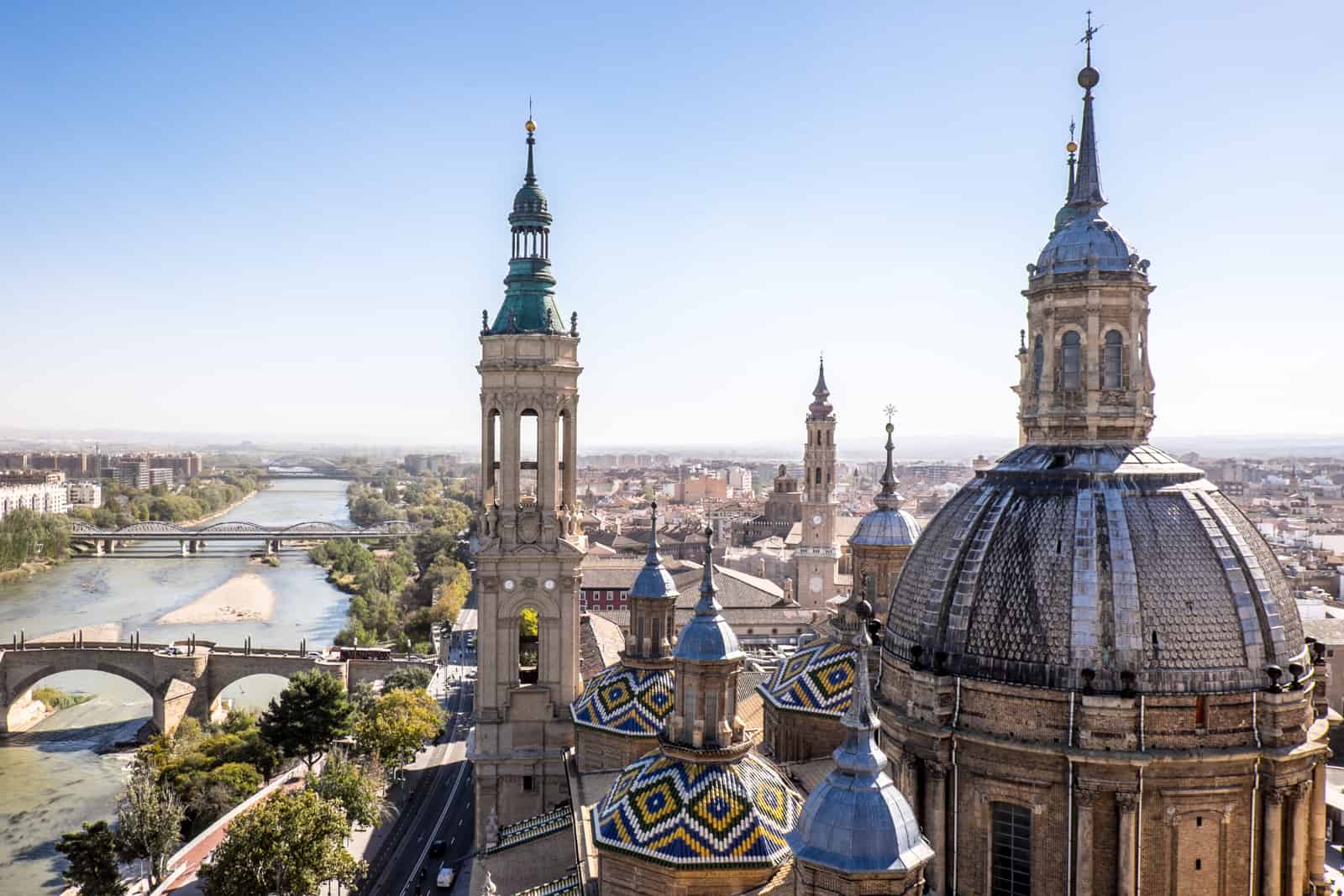 Another is the Ajafería Palace – the 11th century medieval Islamic which today remains one of the most beautiful of all the sights in the city as well as the seat of the regional parliament.
Wander beyond the opulent centre of Zaragoza and you will soon see an interesting contrast in its abundance of street art that's part of an annual urban regeneration drive, bringing an artistic new life to forgotten neighbourhoods. In the home of Goya (with a dedicated museum of his works to boot), it's no wonder that art plays a central role in the city's persona.
Ultra-modern architecture adds to the multi-layers of artistry here, which you can see showcased at the Zaragoza Expo Zone, constructed in 2008. Like the Alma del Ebro sculpture (The Soul of the Ebro), made especially for this International Exhibition by Spanish sculptor Jaume Plensa that stands proudly outside of the jagged lines of Congress Palace.
READ MORE: The Art of Travel in Zaragoza, Spain – World Heritage, Legacy and Urban Revival
City Three: Madrid
Zaragoza to Madrid was a 90-minute journey, so you can jump on a morning train and still have the full day to explore.
Madrid is pretty and gritty in equal measure, with classical architecture and an avenue of art museums, mixed with street art and edgy neighbourhoods. A perfect combo of sights and vibes when exploring a big capital!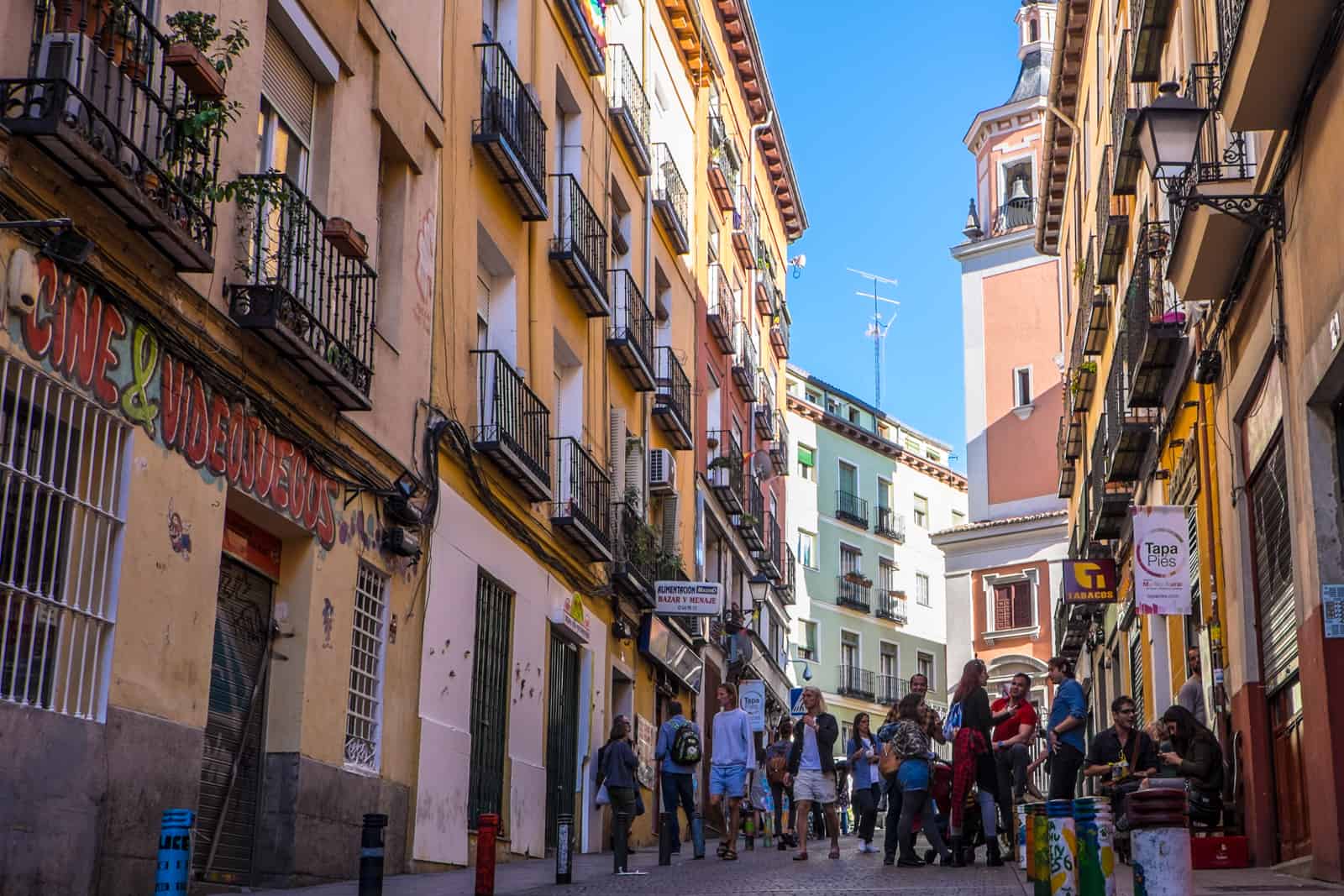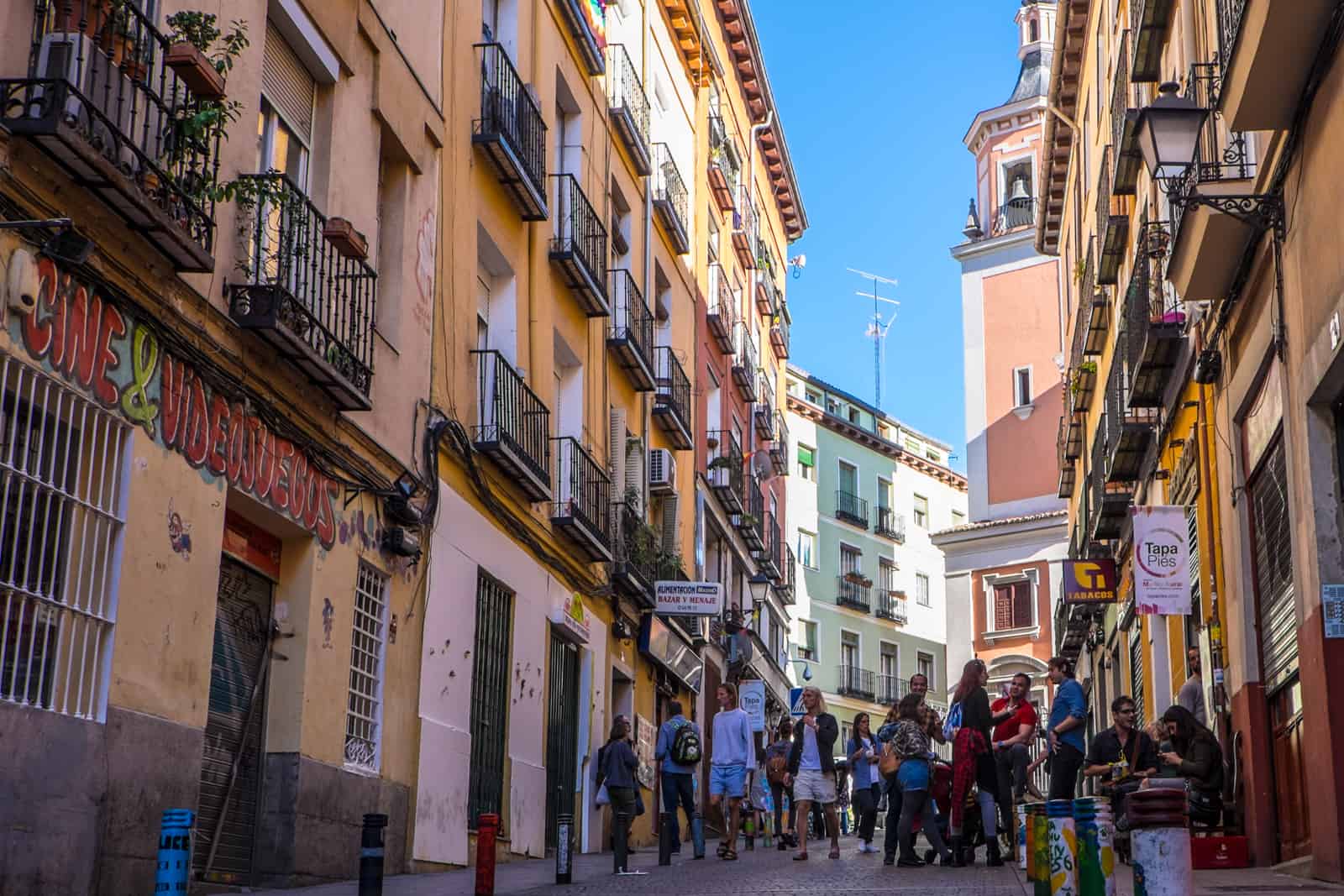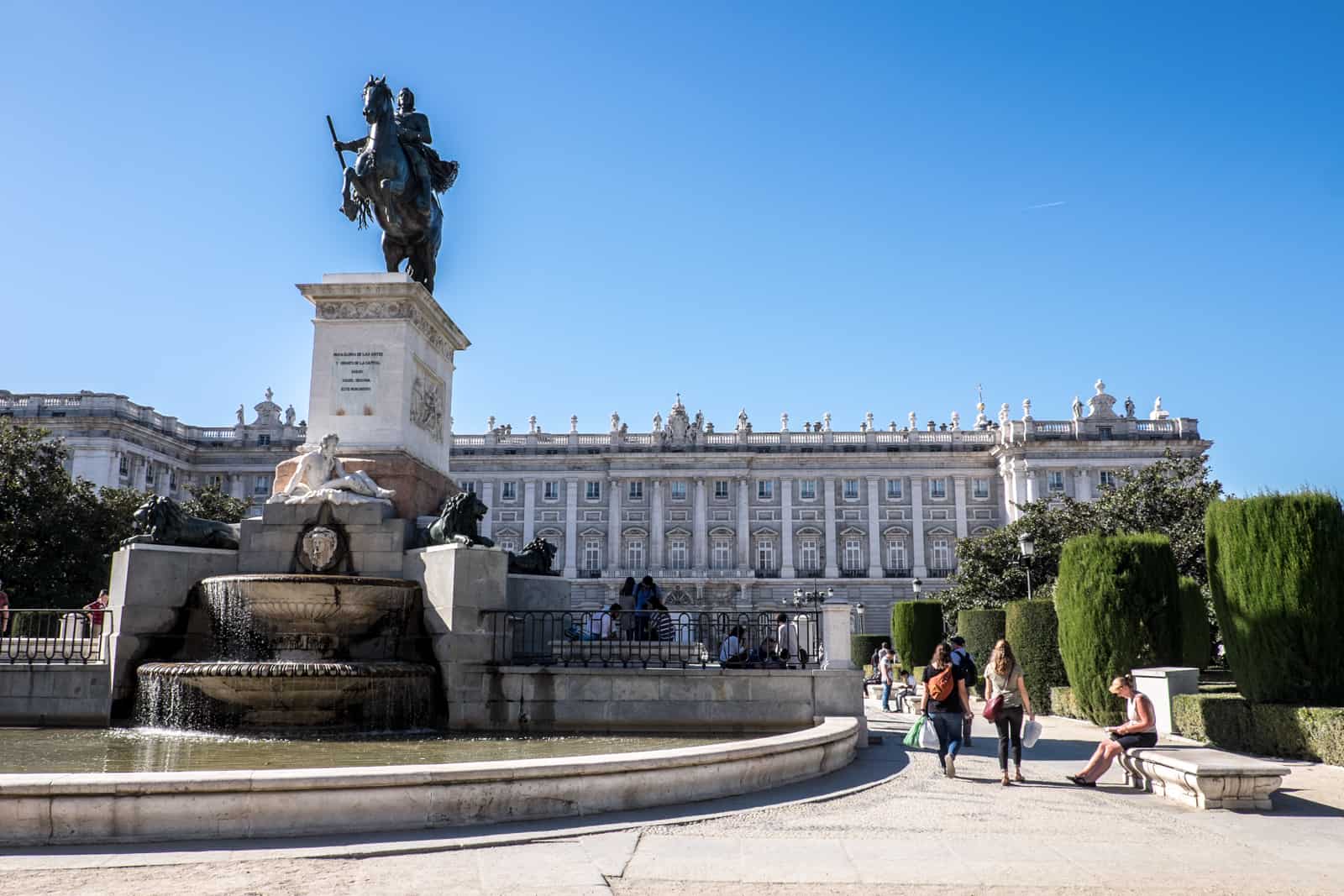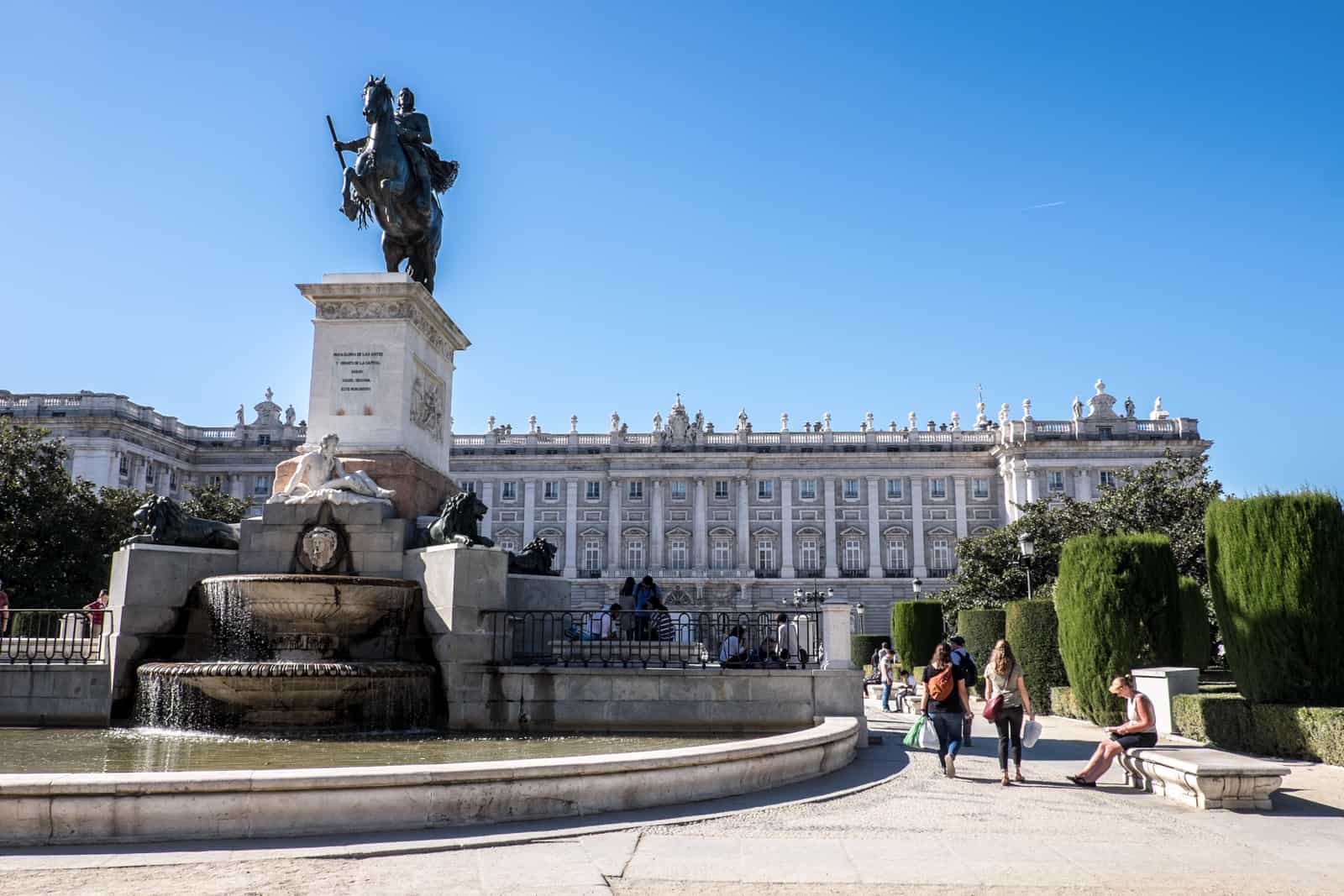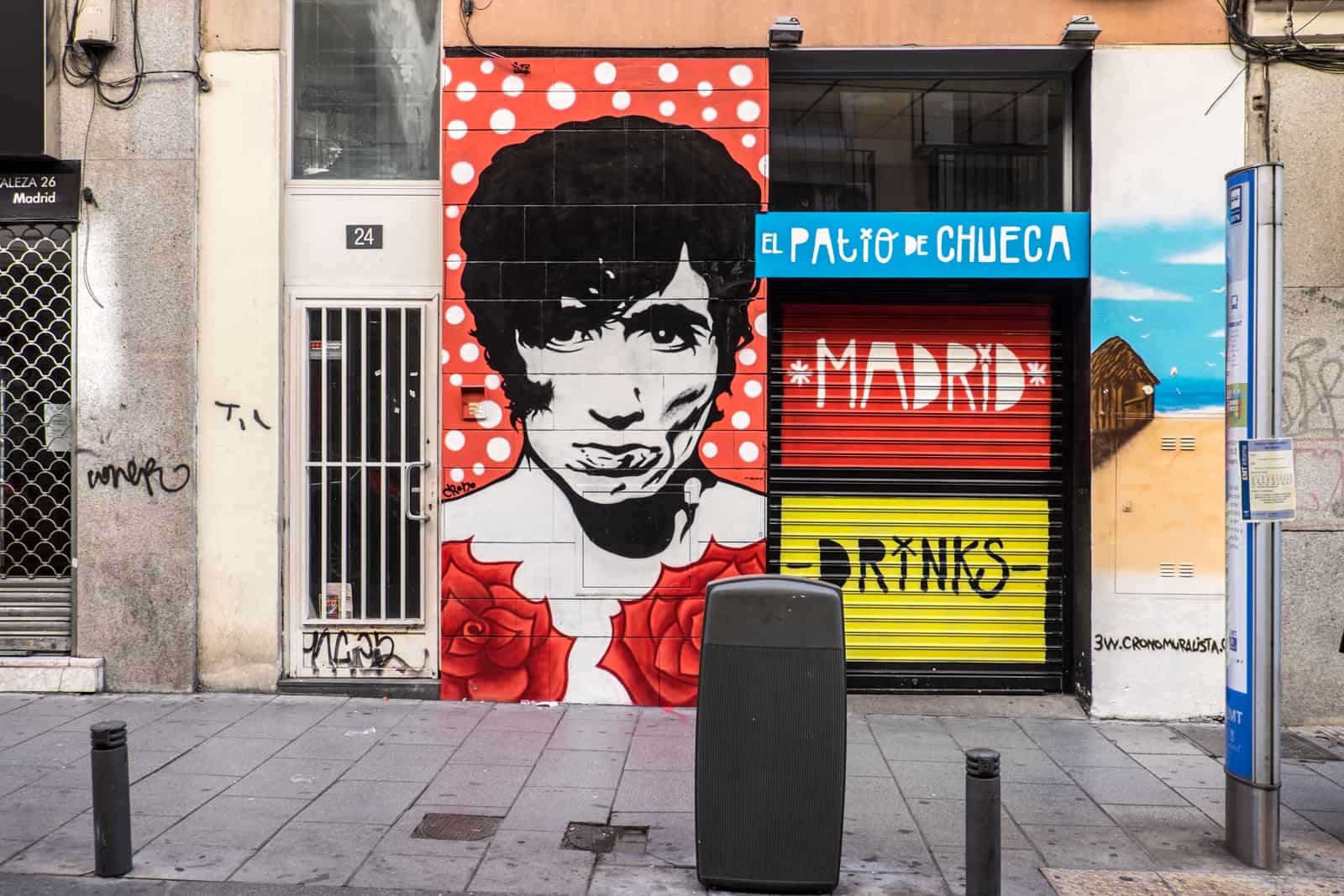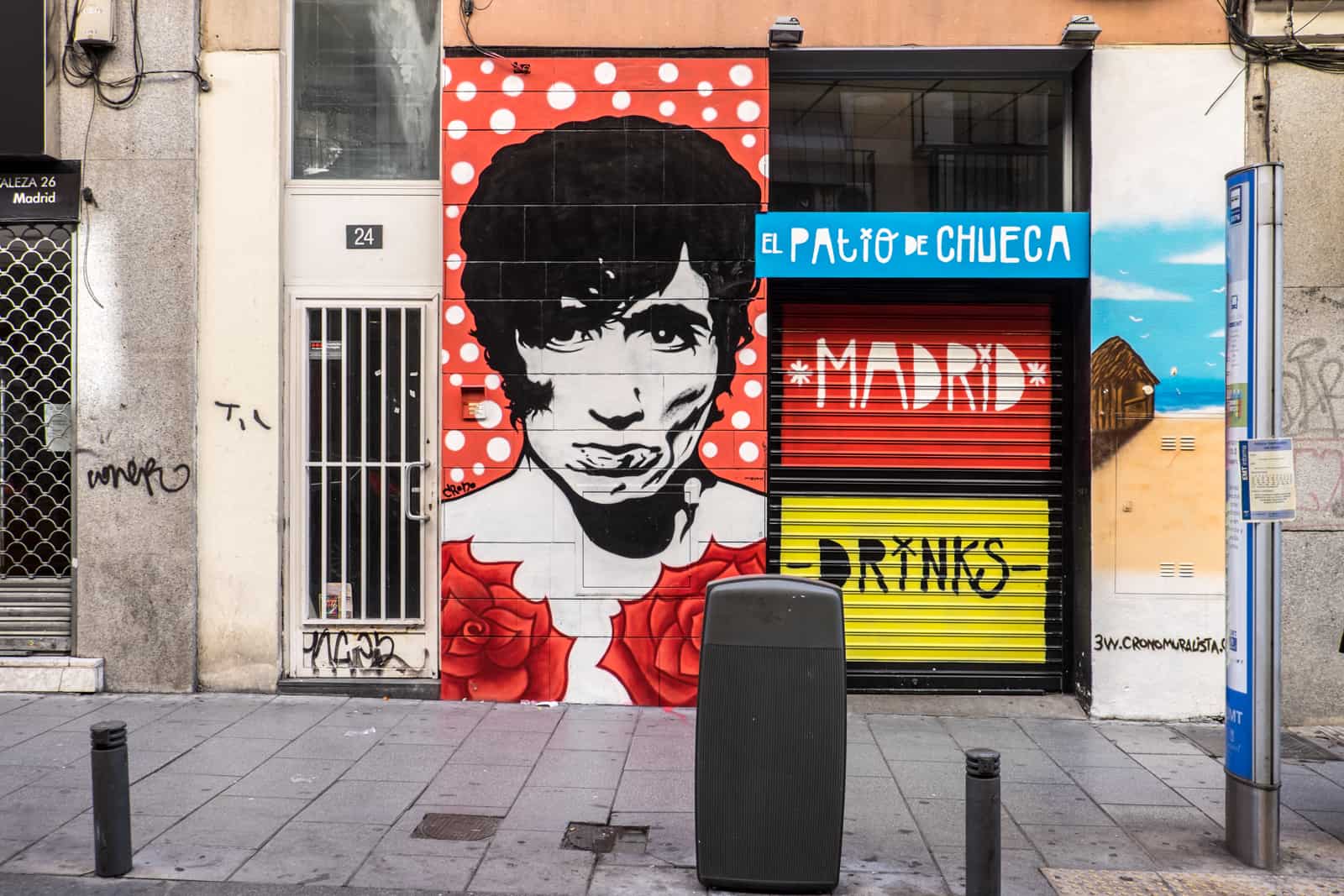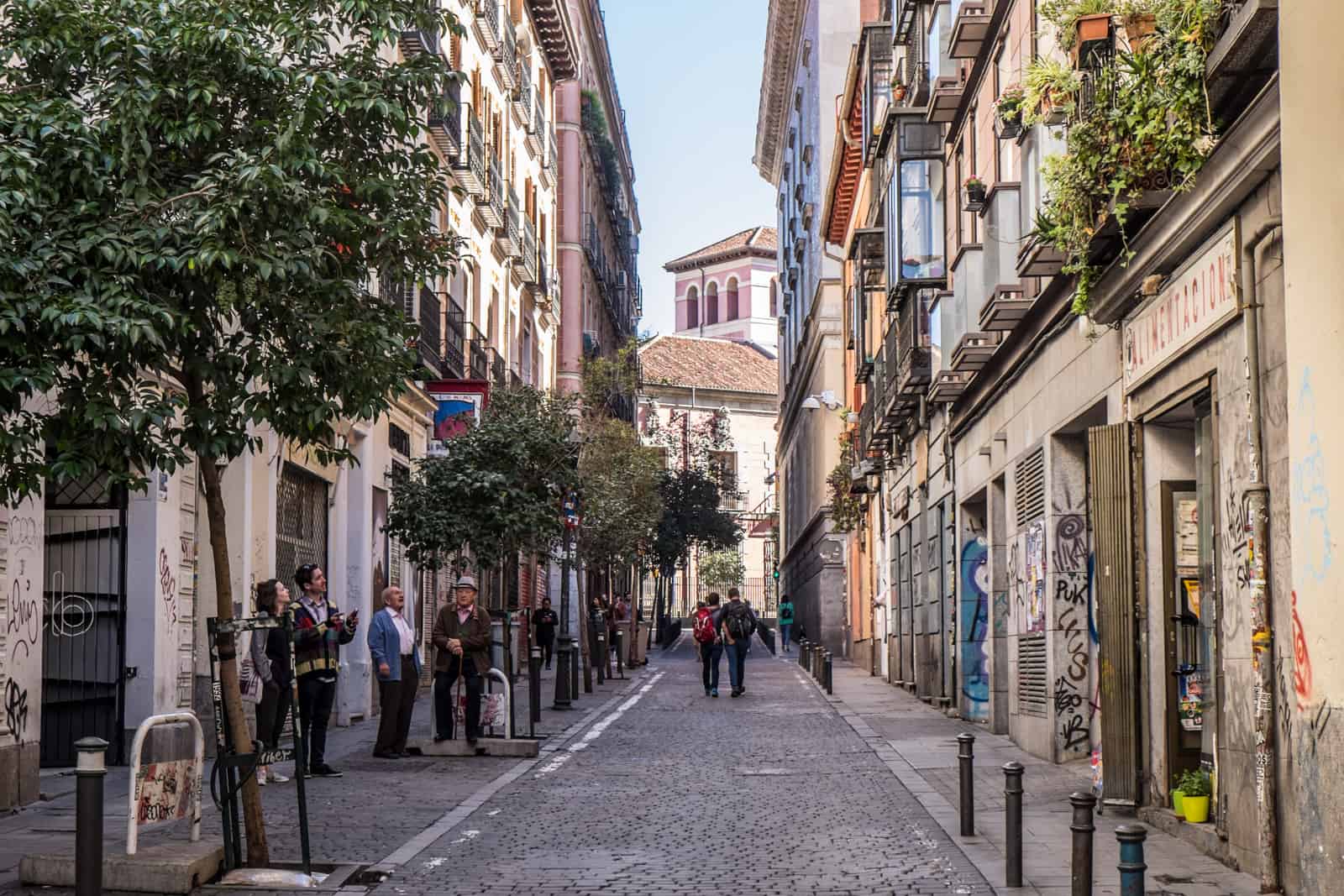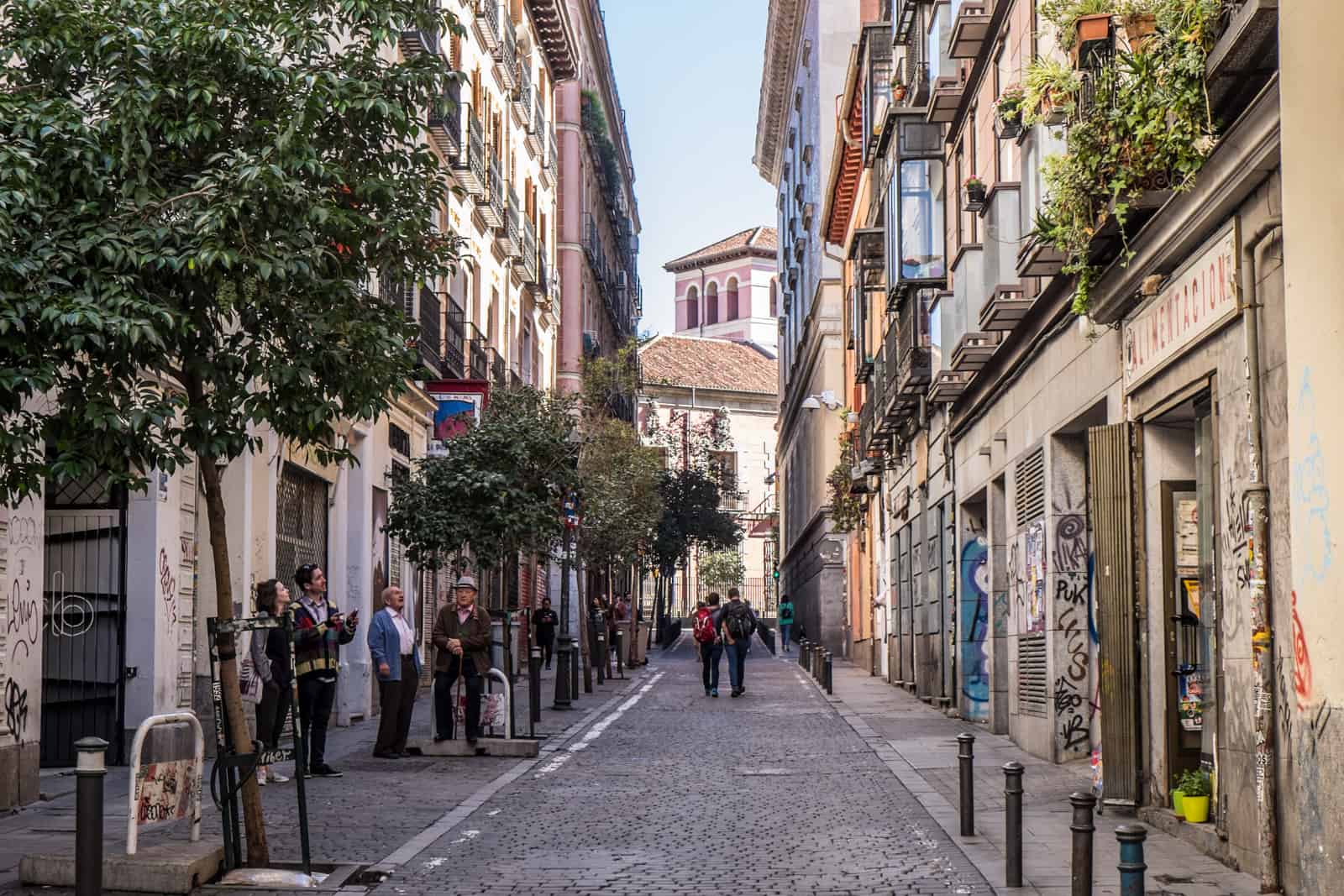 One of the best things to do in Madrid, apart from losing yourself in its multiple subcultures of neighbourhoods and buzzing tapas bar culture (especially on the weekend when the streets are alive) is to whizz around in a nostalgic SEAT 600.
City Four: Seville
In just three hours you can find yourself in Seville, whose name immediately conjures up a romantic vibe. From bustling Madrid to the charming, flamenco dancing famed Seville, this may be a city you may instantly fall in love with where colourful, artistic streets contrast with the delicate, classical architecture of the open squares and boulevards.
The Cathedral is a city centrepiece as is the exquisite Plaza de España is a plaza in the Parque de María Luisa. A mix of Moorish and Renaissance designs, this 1928 masterpiece is a symbol of the city known for its grandeur of tiled fountains, opulent bridges and lush gardens.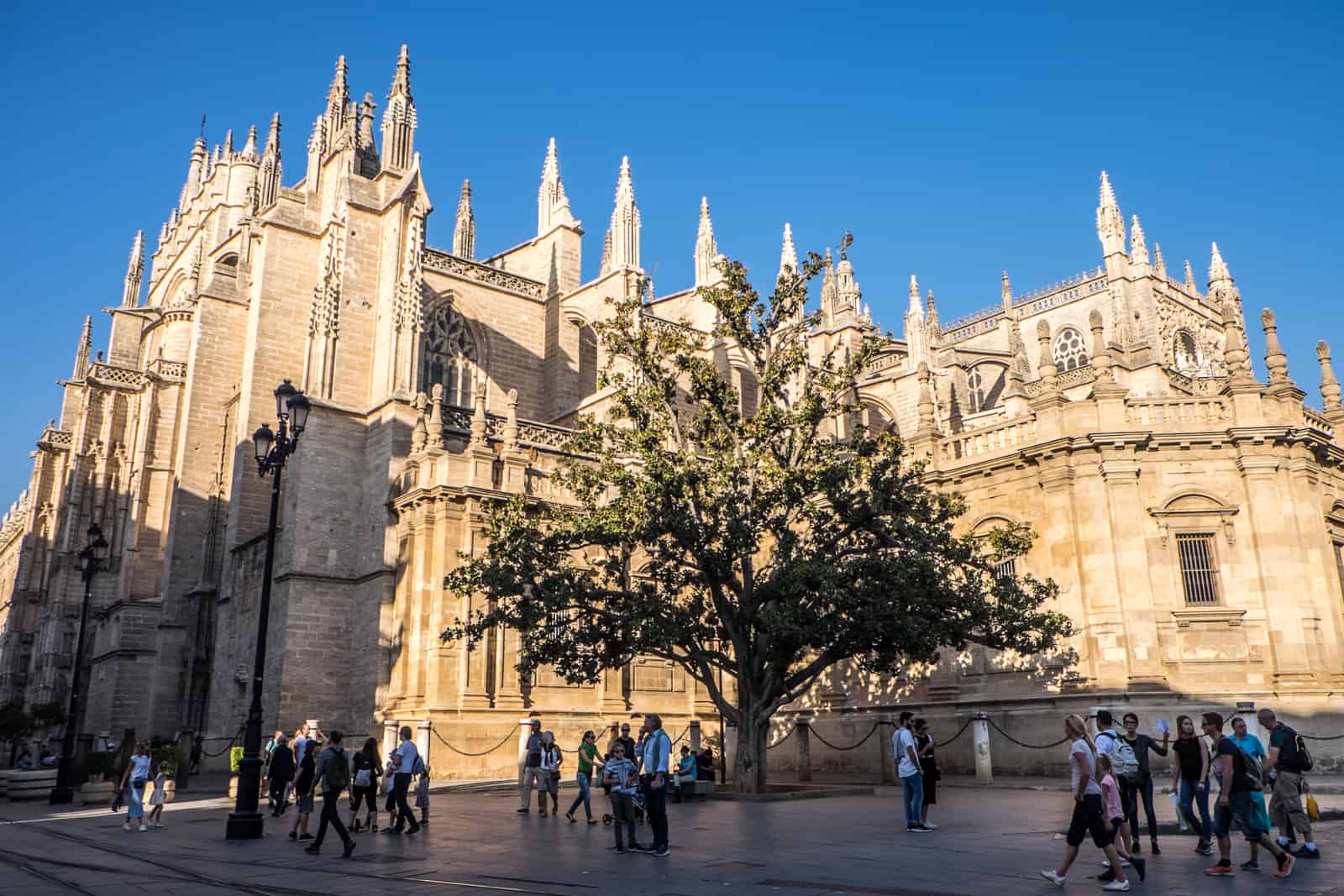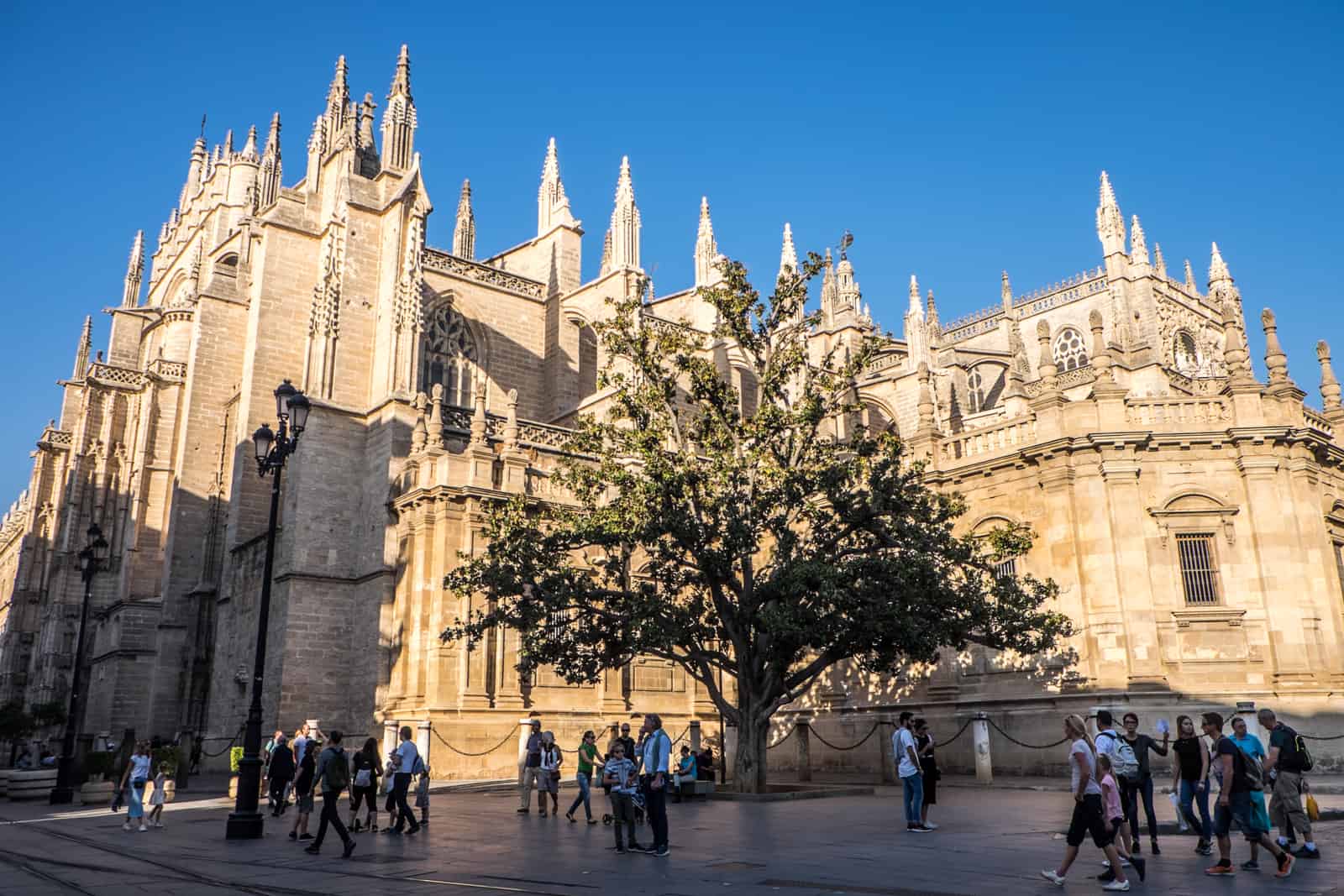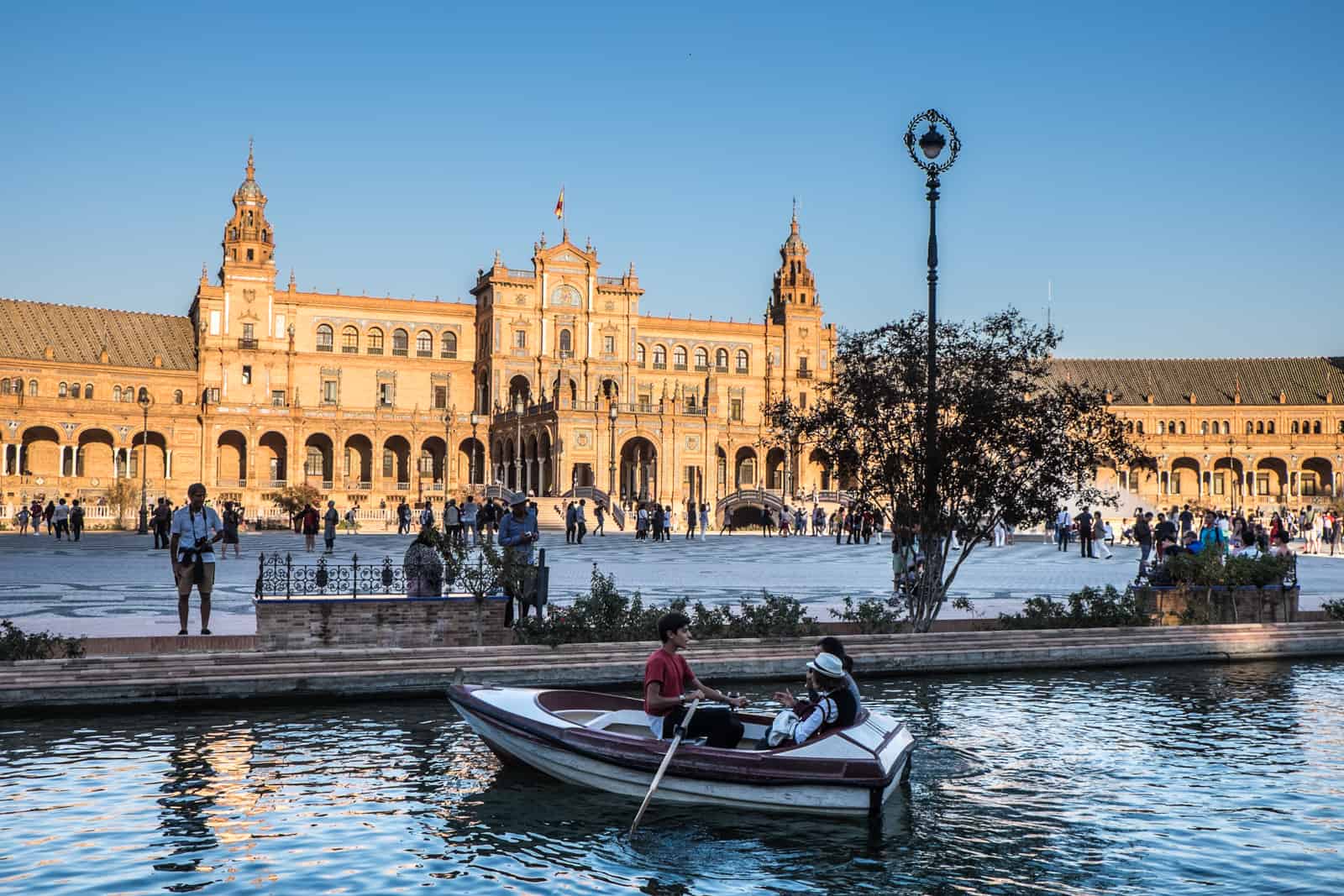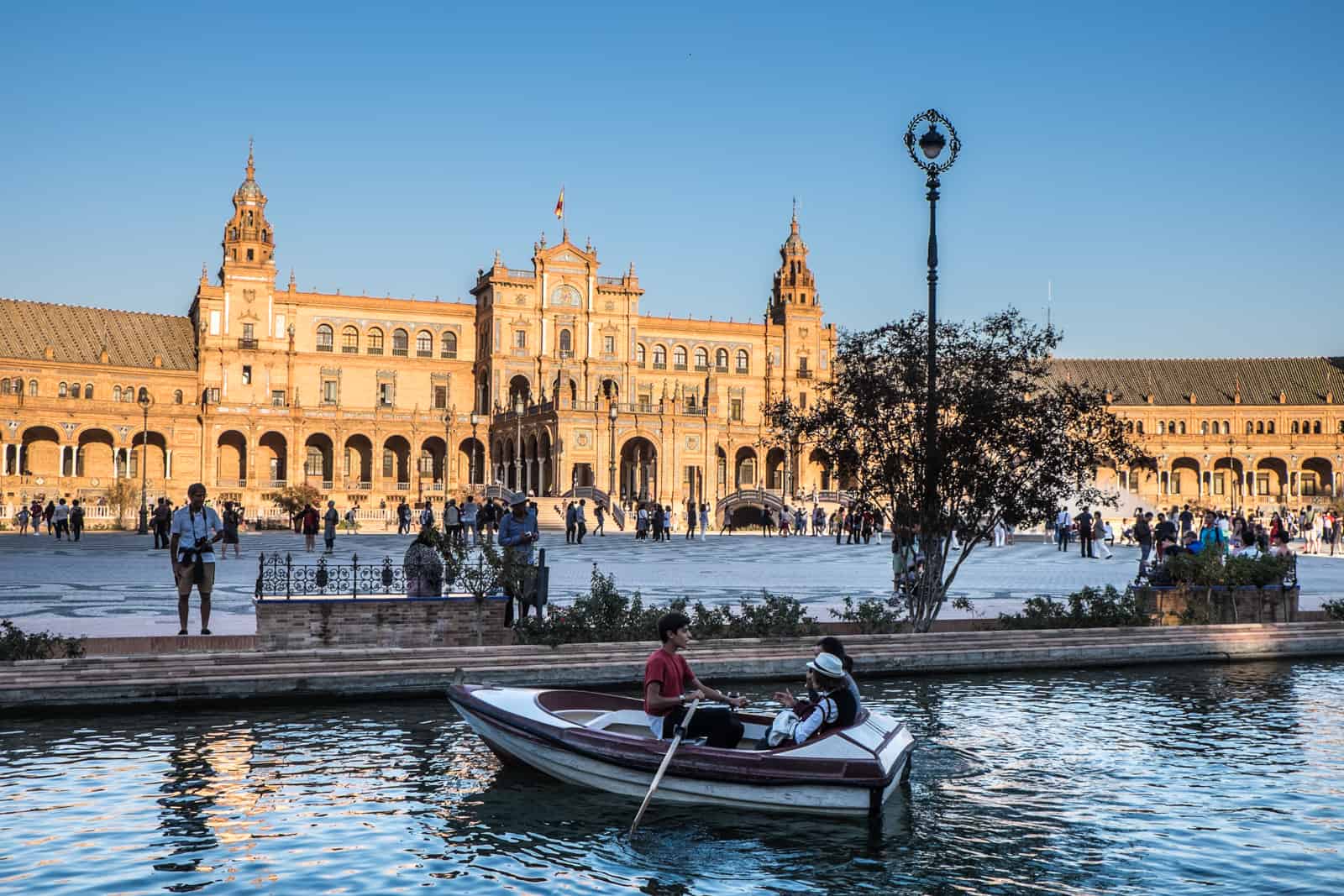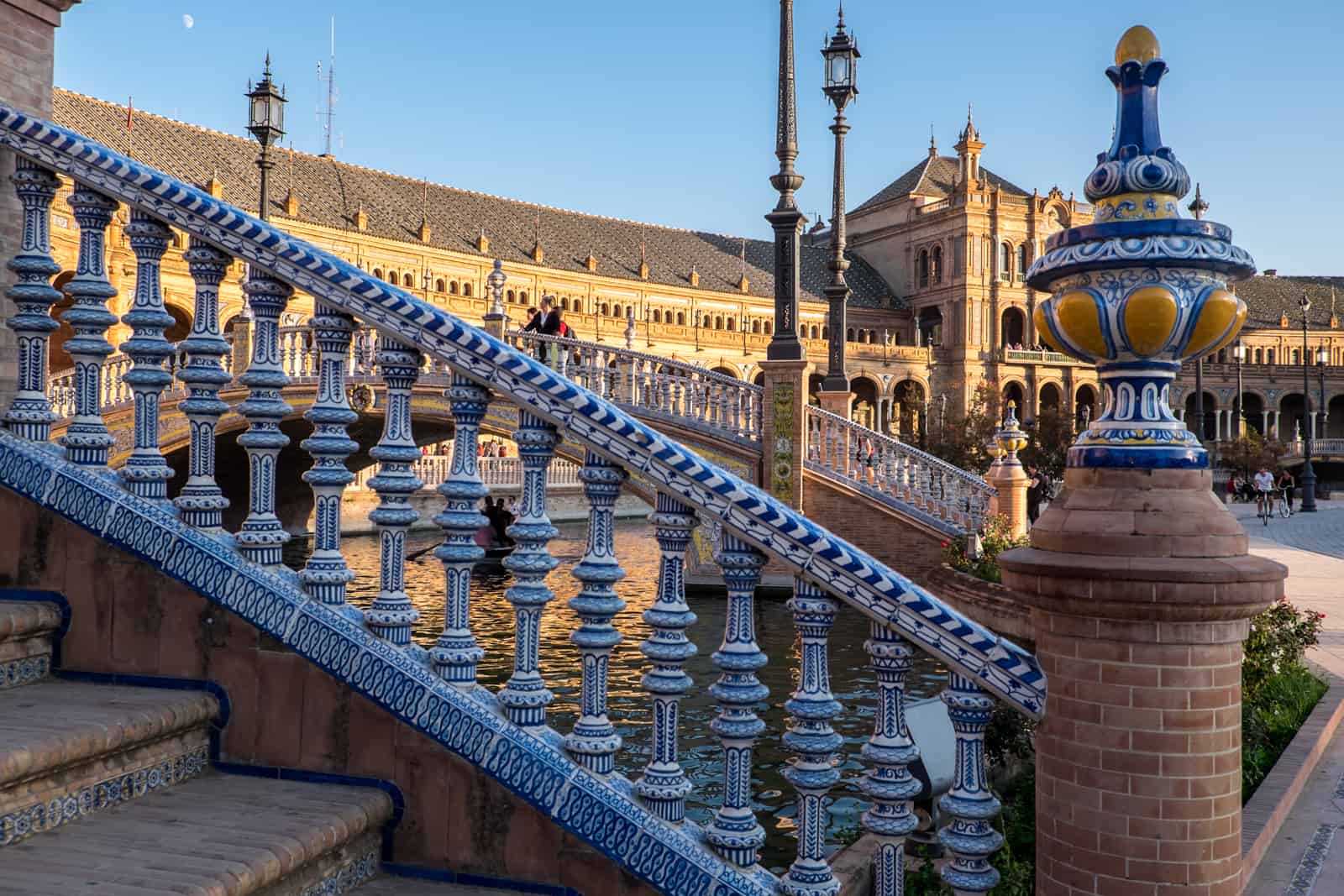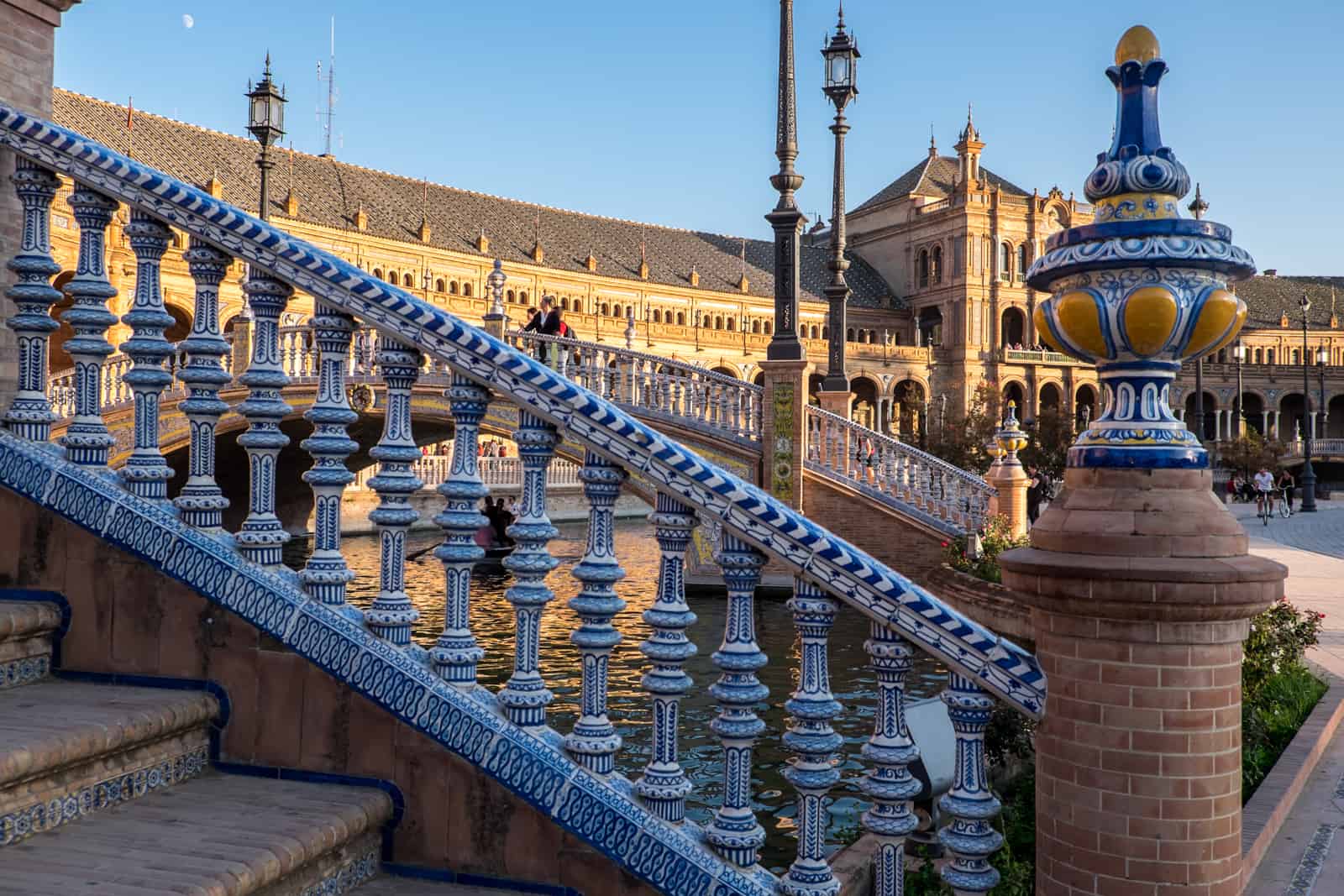 If you have time, dedicate at least half a day to exploring the vast landscapes and dazzling detail of the stunning Mudéjar architecture of the Real Alcázar of Seville, whose origins began as a royal palace, built in the 14th century by Muslim Kings. The huge grounds are worthy of a full day of exploration, despite the intense crowds it can draw. From archways and courtyards, and manicured gardens that have been used as film sets including those of Lawrence of Arabia to Game to Thrones, it hard not to lose yourself in its romantic beauty of the oldest royal palace still in use in Europe.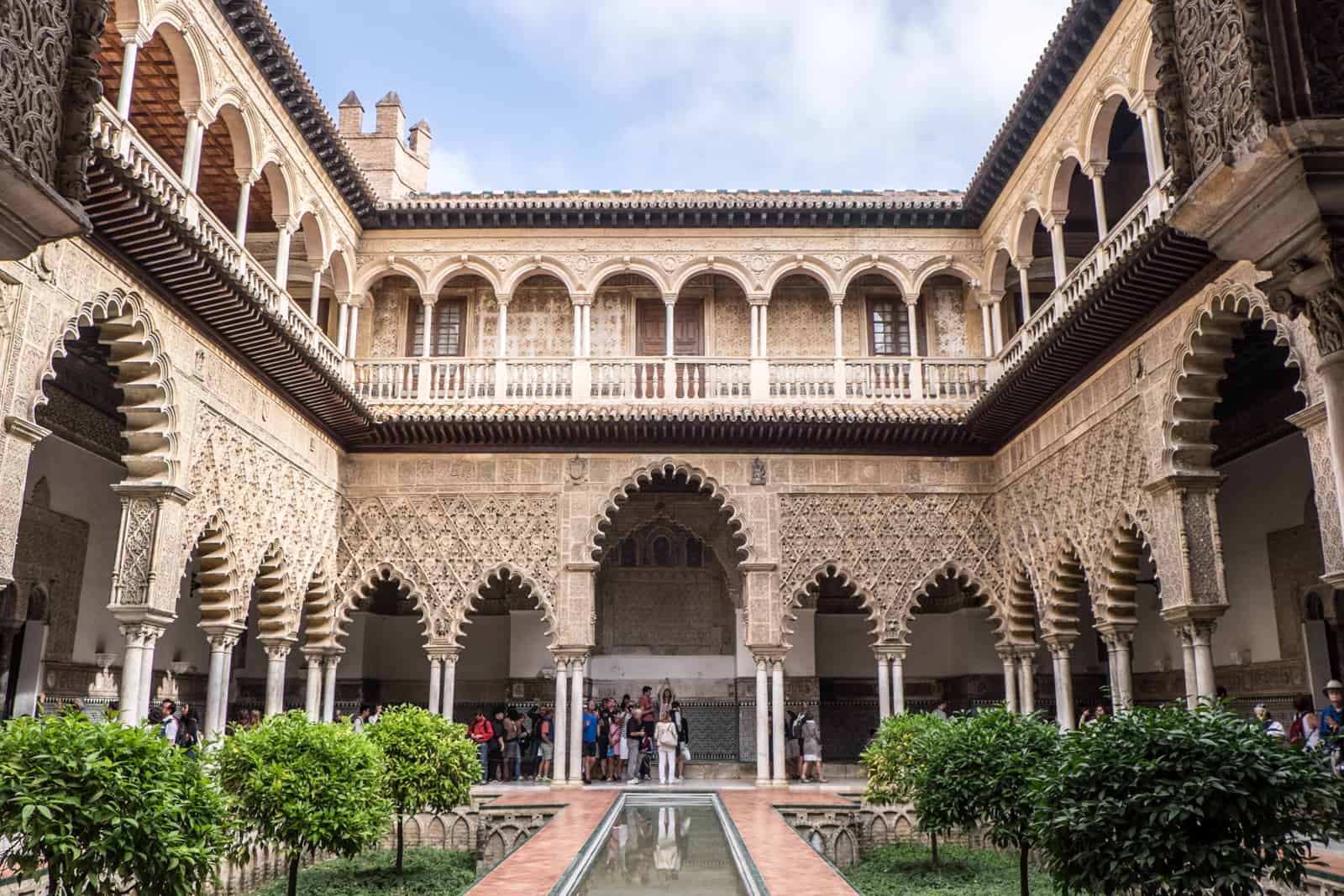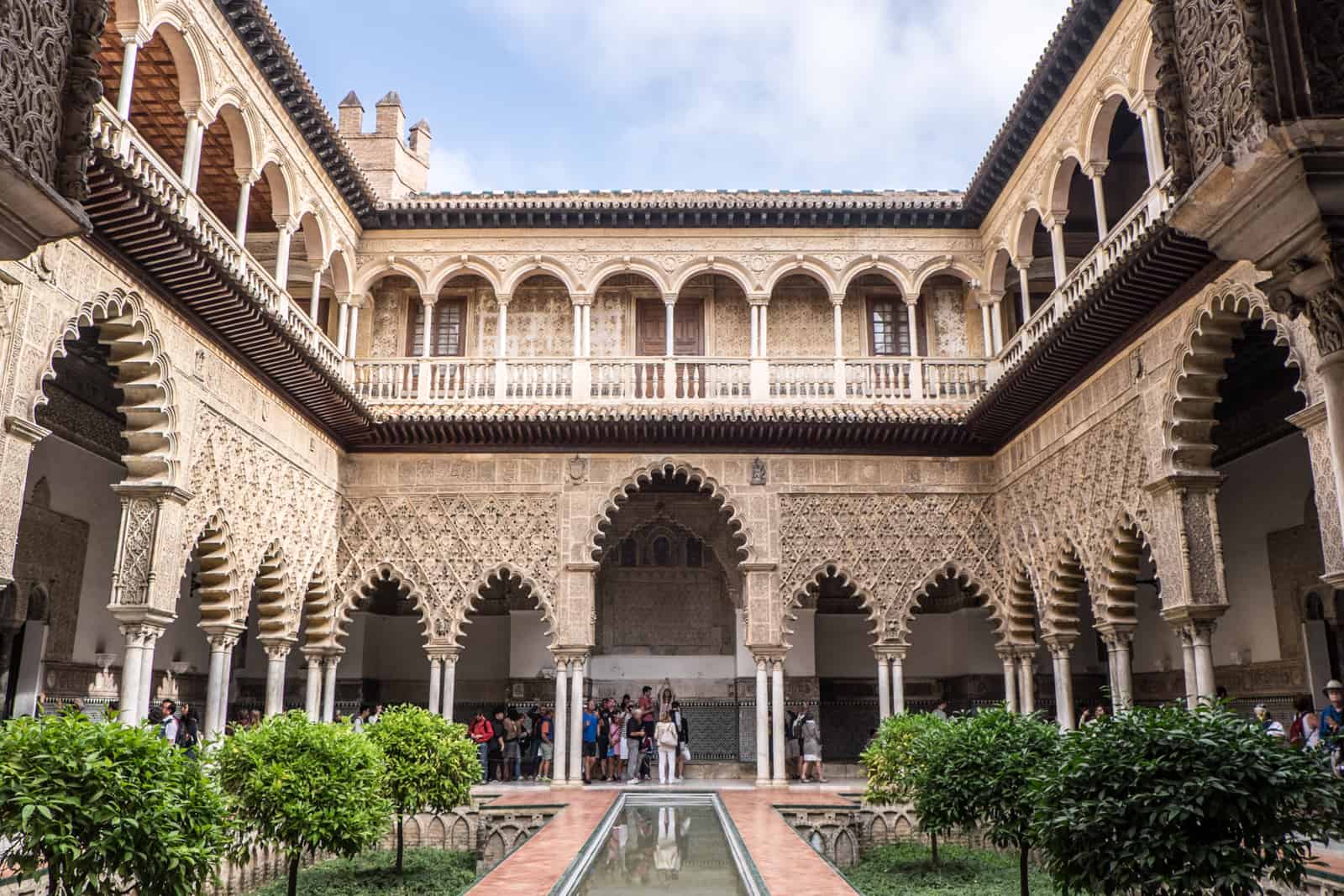 Like other major Spanish cities, Seville is not without its modern architectural additions. Occupying one of Seville's squares, the city's Metropol Parasol (more affectionately known as 'the mushrooms') is the largest wooden structure in Europe, whose curling walkways up to 26 metres high provide a new panoramic view of the city. Designed by German architect, Jürgen Mayer, it has been the subject of much controversy since its completion in 2011.
How to Book a Renfe AVE Train Ticket in Spain
The AVE Spain trains have nine classes if you count the overnight trains with sleeper/bed options, but there are two main Renfe classes to consider – Turista (a second class option with 2 x 2 seating rows) and Turista Plus which is a little more spacious (with 2 x 1 seating rows). I travelled on each of my journeys with a Turista ticket, which was comfortable enough and great value for money.
Getting a Renfe Spain Train Pass
If you are looking to book a multi-stop trip, consider getting a 'Spain Pass'. This means you can travel using just one ticket for the AVE service and other long-distance trains. The only downside to a Spain rail pass is that

you must reserve a seat before every trip

, as limited space is assigned for Spain Pass holders.
How much is a Spain Pass? First, you need to decide how many trips you are likely to take before booking. As you can see it's more cost-effective to buy an 8 or 10 trip train pass, as the difference in cost is not much greater than the shorter passes.
Tip on How to Travel by Train in Spain
Book your ticket in advance. Fares are known to typically rise closer to the date of travel, especially at peak times. Some tickets can be booked up to three months before the date of travel and it is not possible to book a ticket at the station on the day.
Print your ticket. You need to show a printed ticket ready for scanning before you board.
Arrive at the station at least 30 minutes before your train departs. This is because there is a security check, with a scanner for your bags and a ticket check before you can enter the platform.
Give yourself time to get to and from the train station. Rail travel in Spain may cover extensive ground, but while most stations are in the centre of the major cities, some can be a 15-minute bus or taxi journey just outside of it. Research beforehand to give yourself time to plan your journey to the station prior to departing.
Booking Hotels in Spain – Pre-arrange Your Accommodation
In order to streamline your journey in between the train station in Spain and your arrival to the city hotel, research ahead of time and book knowing the distance and what time you need for the extra travel.


Planning a Spain Train Travel Trip? Pin It!